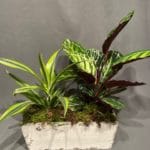 Assorted Tropical Planter
$75.00
An assortment of beautiful tropical house plants in a rustic wooden planter box.
They are easy to care for, requiring bright indirect sunlight and regular watering.
Perfect as a house warming gift, for the office or any space in need of liveliness.
Plants selected by Designer.
Any plant requests welcome in 'Additional Notes' but subject to availability & confirmation
Planter box dimensions:  14″L x 7.5″W x 5.5″H
We welcome design requests but cannot guarantee specific materials. Images are for illustration purposes only, each arrangement is custom made and flowers will differ from those shown.
Delivery Info: Between 1-4pm daily, No delivery to Pemberton or Squamish
Taxes: BC Tax Rates: 5% GST & 7% PST