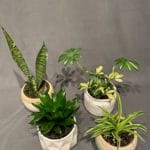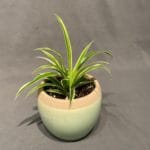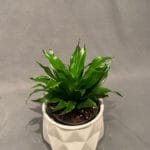 4″ Tropical plant + Ceramic Pot
From $20.00
Snake plant:  One of the toughest plants you can find. Whether indoors, in your garden or on your balcony, these spiky beauties can put up with almost anything.
Umbrella plant: Water thoroughly when the top of the potting mix dries out, then let the soil dry before watering again. Umbrella plants are flexible about watering, but more tolerant of dry soil than overwatering.
Dracenea Plant: Require less water than most indoor plants. Keep them hydrated by misting the leaves with water and keeping the soil lightly misted (never soggy) as well with good drainage. Always allow the top soil to dry out before watering.
Spider plant: Place the plant in bright to moderate light in a room that's a comfortable temperature for everyone. Keep the soil slightly moist.
CERAMIC POT INCLUDED!
Taxes: BC Tax Rates: 5% GST & 7% PST