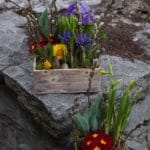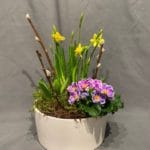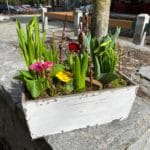 Spring Planter
From $50.00
Beautiful flowering spring plants available in assorted planter boxes.
The perfect gift for any occaison the spring planter will brighten any ones day with its beautiful bright colours and spring scent. The bulb plants will slowly grow and flower over several weeks and can be planted in the ground to flower the following Spring.
Likes bright sun and water regulary.
Options Include:
Round Birch Planter – 6″ diameter
Round Ceramic Planter – 8″ diameter
Large Rustic Rectangular Planter – 14″L x 7″W x 6″H
Large Square Birch Planter – 10″ x 10″ x 2.75″H
We welcome design requests but cannot guarantee specific materials. Images are for illustration purposes only, each arrangement is custom made and plants will differ from those shown.
Delivery Info: Between 1-4pm daily, No delivery to Pemberton or Squamish
Taxes: BC Tax Rates: 5% GST & 7% PST